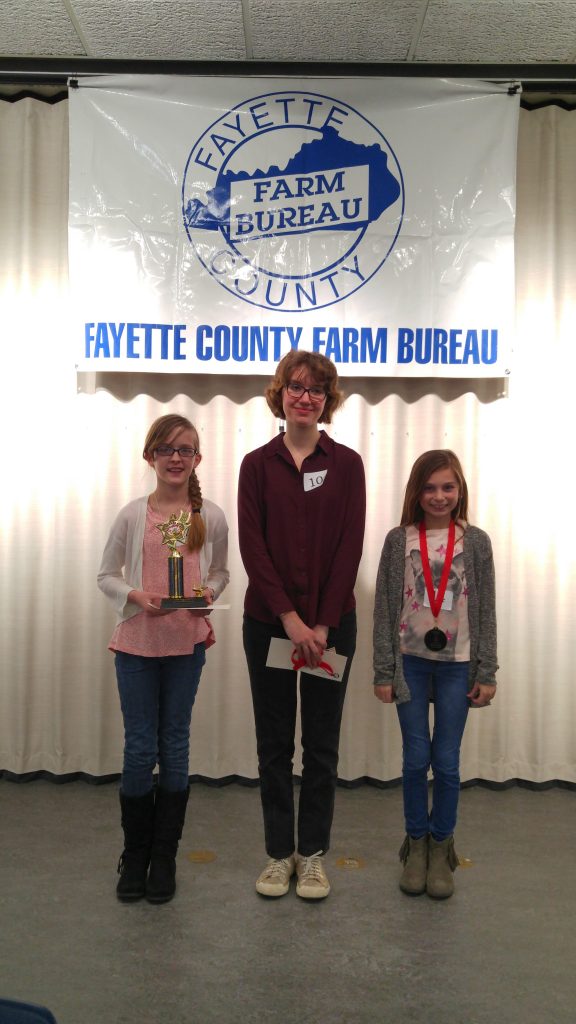 Ashley DeVore a 7th grade homeschool student won the Fayette County Spelling Bee on February 6, 2017.  Ashley competed against 71 other youth from public, private, parochial and home schools across Fayette County and was awarded with a trophy and $75.00 cash.
Fayette County Farm Bureau sponsored the county wide spelling bee for all students in grades four through eight.  The Spelling Bee was held at the Fayette County Cooperative Extension Office.  The Spelling Bee is recognized state-wide, sponsored by Ford Motor Company & the Kentucky Derby Festival.
Second place was awarded to Sadie Bograd, a 8th grader at Winburn Middle school.  Third place was awarded to Meredith Adkins, a 4th grader from Athens-Chilesburg Elementary.  Both received medallions and cash prizes.
Ashley will represent Fayette County at the Kentucky Derby Festival State Spelling Bee on March 11 2017 in Louisville, KY.
For additional information on the 2017 Fayette County Spelling Bee, contact Carrie McIntosh, Fayette County Farm Bureau Executive Director, 253-0023.